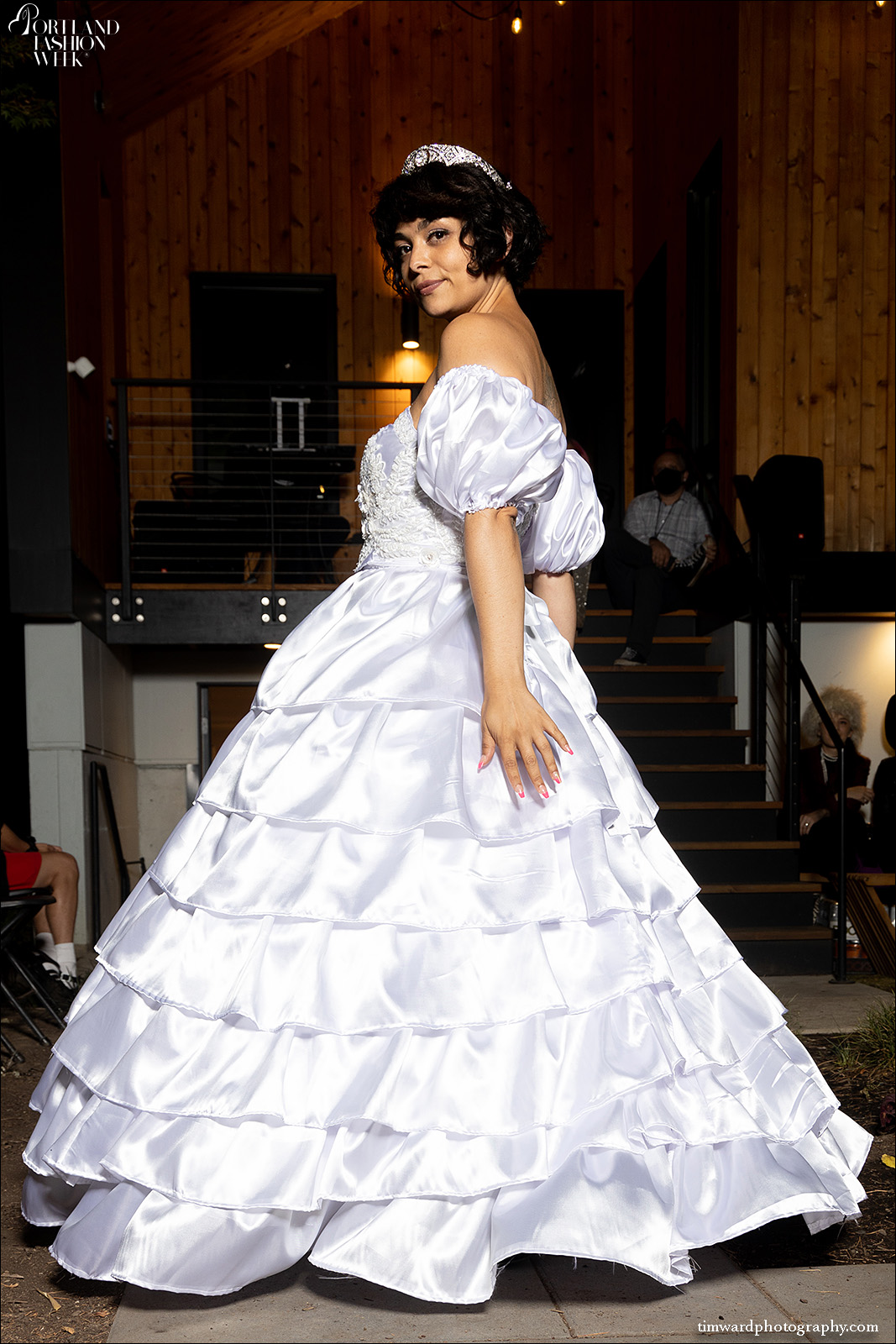 Bridal Collection Made From Recycled Stretch Fabric
Innovations in bridalwear are surfacing! PCF swatch manager Summer Wach, Escape The Ordinary Designs designer, created and presented her latest twenty-one look recycled bridal collection at Portland Fashion Week on August 19th. The Portland Fashion Week event showcased its designers in a sustainable show with good music, vendors, and a unique atmosphere. Summer describes this collection with three simple words Comfort, Inclusion & Beauty. This simple description perfectly describes the designs, materials, and silhouette of the collection. Sustainability has become an active topic in the apparel industry, and bridal is the ideal outlet to address this discussion with many brides only wearing their dress once.
Organizer: Portland Fashion Week Photographer: Tim Ward @timwardphoto Models: Chris Rivera @chris.rivera, Idara'obong @iridescentshawtey, Tina Marie Kohler @tinaaakohlerrr, Emily Posey @emilyposey555, Rose Lawrence @rosessunnyday, Makayla Davis @makayla.davis1, Bunni Muffin @bunni.muffin, Leah @leahs_lifestyle95, Tasha @tashaeverett Designer: Summer Wach @escape.the.ordinary.designs
Man of the materials used in Summer's bridal collection are proudly supplied by PCF. The beautiful bridal collection uses satin made from Recycled Polyester, Duck Dive, White Shiny Tricot, and White Olympus. Other materials used are Various Nylon Laces, Nylon Tulle, and Polyester Shiny Satin. Summer explains she had a challenge with "working in an absurdly small sewing space mixed with an abundance of ambition is a hard combo to overcome." The images don't show the details as well as spectating the show in person, but we can say that the construction of the pieces is incredibly well done. Our favorite piece is the Recycled Satin piece with the Olympus top for its beaded glimmering tassels swinging while the model walked. Summer's favorite dress in the Bridal Collection Made From Recycled Stretch Fabric is her "giant hoop skirt with the puffed sleeve corset. Anyone can wear it and look like an instant queen! And because of the way I sized it."
As an established designer showcasing her work in Portland Fashion Week, we asked Summer for advice for upcoming designers who want to show a collection at Portland Fashion Week. She states, "Find your inspiration, make your collection (8-15 full outfits), get some photos taken, and send them photos of your stuff! New designers are always welcome! From streetwear to bridalwear, Portland Fashion Week would be excited to have you!" If you are a start-up designer looking for a media outlet to showcase your collection feel free to reach out to PFW and start your journey today! Summer also tells us she is starting to pack away dresses that are retiring from the runway and looking forward to new ideas and inspiration for next year.