Moisture Wicking Fabric
In need of a moisture wicking fabric? Both heavy and light weight Micro Polyester fabrics are perfect for you! It contains all the properties of moisture wicking material to help to draw sweat & moisture away from the body using advanced moisture management.
This breathable, high performance, moisture wicking fabric is the basic activewear fabric of choice! Micro-Poly Hight Count is perfect for activewear to keep the wearer cool and dry during any activity.
If you are interested in this fabric, add your favorite colorways to your Quote List or call your sales representative at 844-827-4206 to learn more!
HIGH PERFORMANCE, MOISTURE WICKING, BREATHABLE FABRIC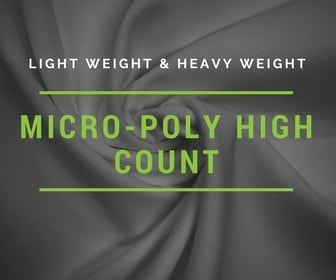 Additional Info:
88% Polyester, 12% Spandex
58/60"
Heavy: 270 GSM
Light: 203 GSM
All Micro Poly High Count Light & Heavy