Wicking Supplex Fabric
Wicking Supplex is an excellent choice for any activewear market. This heavy 270 GSM fabric is a great choice for pant weight or thick leggings. There is a variety of colors to choose from you are sure to love! Made using Invista Supplex, the hand on this cloth is very soft and has a firm drape due to the weight.
This fabric keeps the wearer dry and holds its shape during any activity. Talk about a perfect fabric for performance wear!
If you are interested in this Wicking Supplex fabric, add your favorite colorways to your Quote List or call your sales representative at 844-827-4206 to learn more!
PERFORMANCE MOISTURE WICKING FABRIC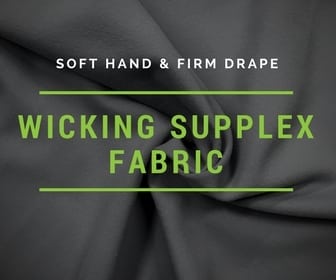 Additional Info:
88% Supplex, 12% Spandex
58/60"
270 GSM
All Moisture Wicking Supplex