Swimwear Trends – What To Expect?
With summer coming to a close here in 2018, what can we expect for the swimwear trends in the coming years? Well, Creora®, the makers of the amazing creora® highclo™ seen in our swim fabric line, put together a gallery of how 2019 and 2020 are shaping up in swimwear!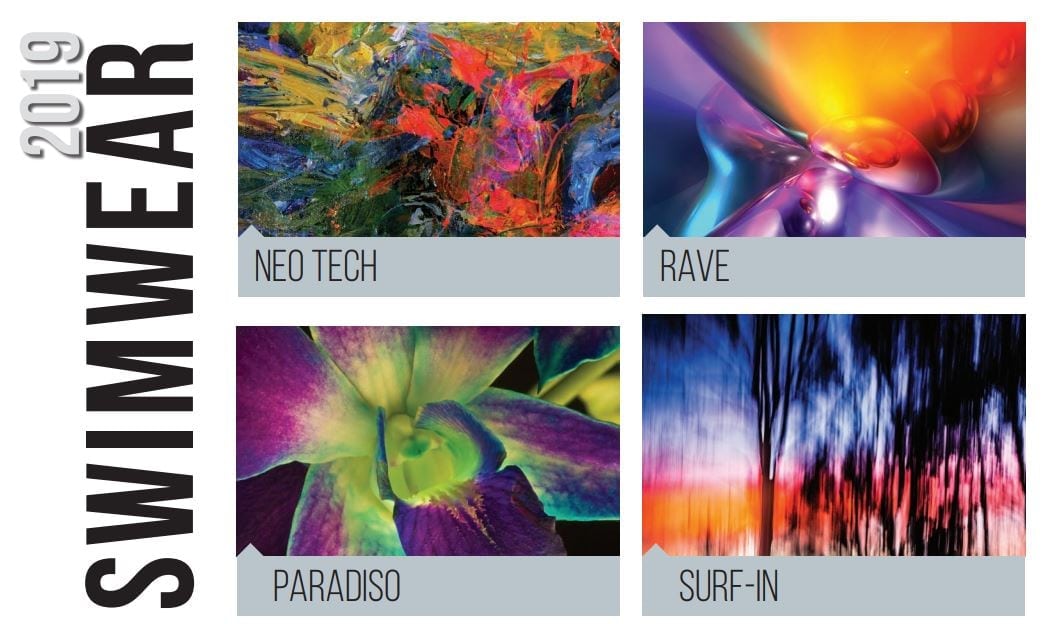 2019 Swimwear
Surf In
The great outdoors has created a strong sense of environmental responsibility as the focus shifts to saving the ecosystem. The growing platform for Recycled synthetics plays an integral role in the eco-conscious mood. This mood is eco-friendly, befitting to the surroundings it will be worn in.

So, it is no surprise that swimwear fabrics are taking on a natural touch combined with added functions, like UV protection and spandex that holds up to chlorine degradation. This is moving swimwear in the direction of a laid-back mood, evident in the natural and matte aspects that come through. Prints aren't as brazen and designs are being made to look as good in the streets as they do on the beach.
Paradiso
Nature as an inspiration in color and relief features alongside the exotic locations that influence this next 2019 trend. A new level of sensational touch combined with vibrancy appeals to swim customers. Finding the marriage of perfect fabric content with innovative swimwear design seals the deal. The range of creora® spandex for fit and longevity helps take this print trend to the next level.

From fabrics that range from semi-matte to gleaming and bright, it is the touch of the fabrics that push this swimwear trend to a new level with circular and warped knits. The importance of shaping is critical with compression qualities to guarantee a smoothing silhouette and the endless confidence in the wearer. Don't forget that a sensational fabric hand is also critical in delivering the new swimwear generation of shaping swimwear.
Rave
Another trend is explosive prints. A kaleidoscope of color pays homage to the 80's and 90's with rave culture returning. It is not only geared to those who grew up in these times! It is also attractive to millennials who love past culture, as experimental use of colors and textures feature catch their eye.

Textures come to life and an anything goes mood brings bold prints to the forefront in swimwear. From jacquards to seersucker, textures brings a party atmosphere that comes through in the combination of vibrant colors and innovative structures.
2020 Swimwear
Infinity
Longevity is driving the fitness swimwear market. This is why creora® highclo™ is the essential super chlorine resistant spandex! Lightweight circular and warp knits help to reduce drag in the water and enhance swimmer performance. Overall, high-tech fabrics will bring effortless glide while being light for comfort to give swimmers a second skin experience.

Horizon
Finally, a natural inspiration defines this last trend. Warp and circular knit fabrics are also reaching new levels of touch in matte and bright to bring colors and prints to life. Swimwear fabrics with a wet look, micro-brushed surfaces and air textured yarns will deliver a strong tactile appeal to customers. The natural feel also leads to a strong sustainable appeal, with recycled polyester and creora® highclo™ pushing an eco angle.

Overall, consumers are seeking multi-functional, comfortable apparel for their active lifestyles in the next two years. We can certainly expect a lot of new fabrics and prints to bring swimwear to life in 2019 and 2020! From explosive prints and textures to bring the party mood to the natural aesthetic focusing on sustainability and simplicity, swimwear is moving towards loving nature while celebrating life!
Check out the full 2020 trend report here and see our creora® products below!