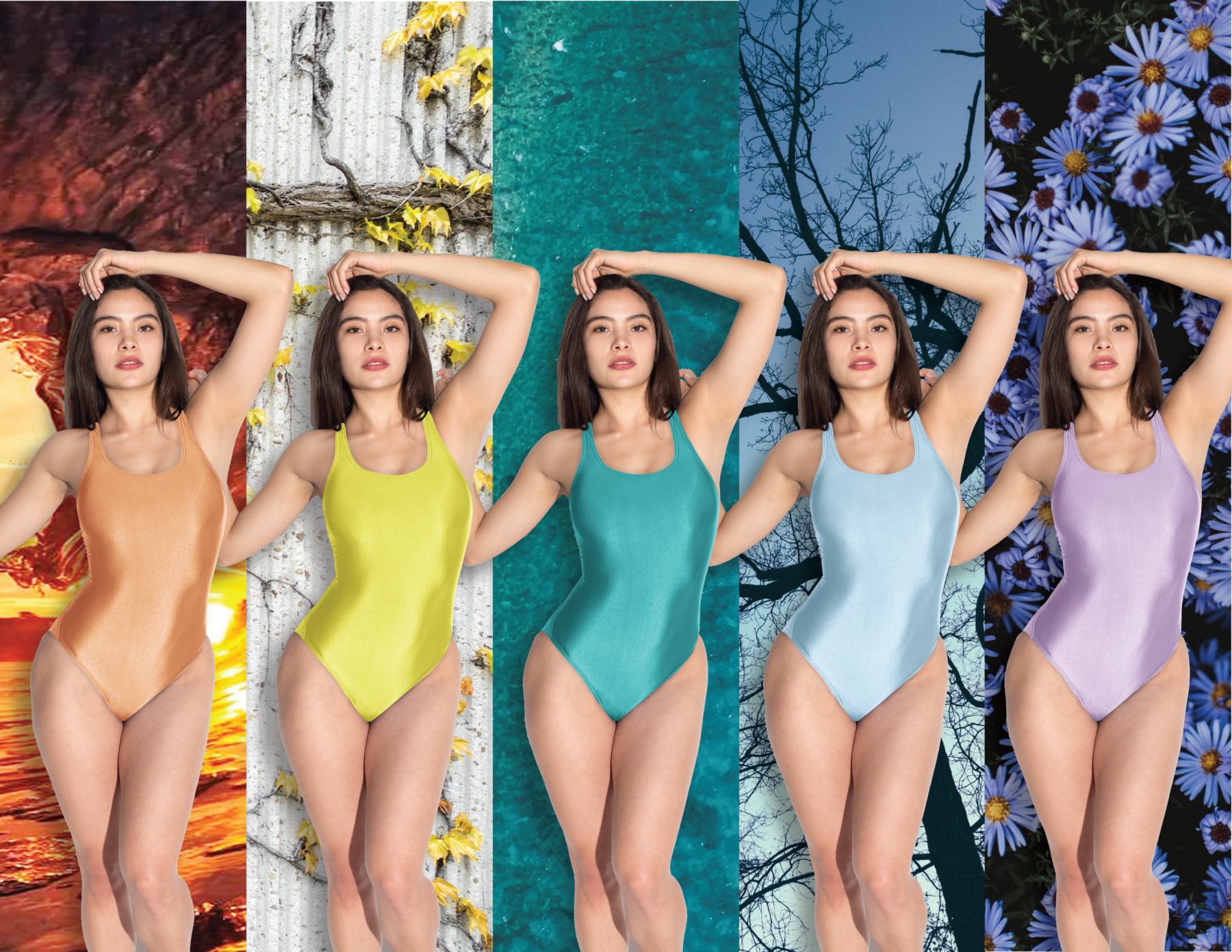 2023 Swim & Active Color Trends
Welcome to 2023 where the forecasted color trends are a beautiful tapestry of vibrant shades, muted tones, and natural hues. Utilizing extensive research and gathering our own customer favorites, we're sharing six color palettes that reflect where this year's trends in swimwear and activewear will be taking us. Explore our latest trend report that features full Pantone Color palettes and abundant inspiration for your 2023 swim and activewear collections. Here is just a sneak preview of what you will find in our report.
Download the full 2023 Color Trends report here!
---
Deep Facets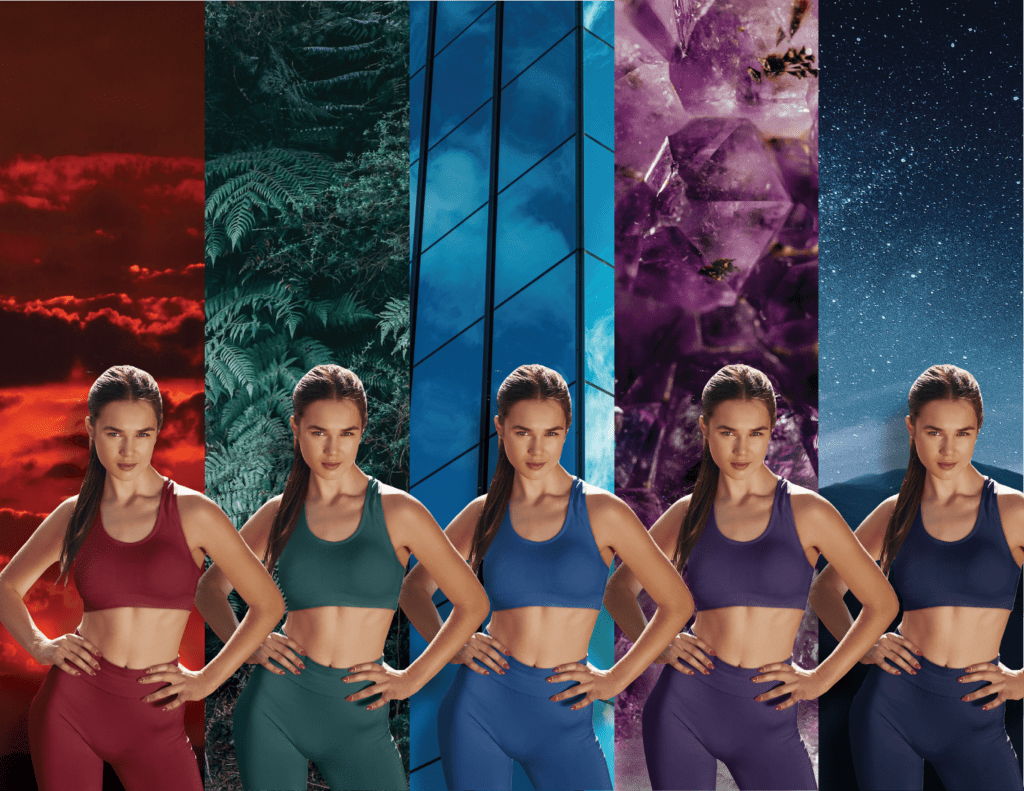 The Deep Facets trend features nocturnal shades and luminous hues. Colors offer an ethereal aura and shades show dark saturation that blend and blur as a palette. This rich palette is featured on our Endurance Repreve® Recycled Polyester Collection. Endurance is such a popular choice for activewear garments not only for its performance properties but for its sustainability certifications – diverting at least 13 plastic bottles from landfills with each yard. Check out all 15 in-stock colors today!
---
Nice 'n Neutral
Nice 'n' Neutral is an enduring color range, rooted in earthen hues, with an eco-centric aesthetic due to inspiration from naturally processed dyes. This neutral palette of natural shades is shown here in our Athleisure Ottoman Rib stretch fabric. A perfect palette and fabric for relaxation, loungewear, and yoga wear. Athleisure Ottoman Rib is stocked in three colors with many more custom colors available.
---
Urban Garden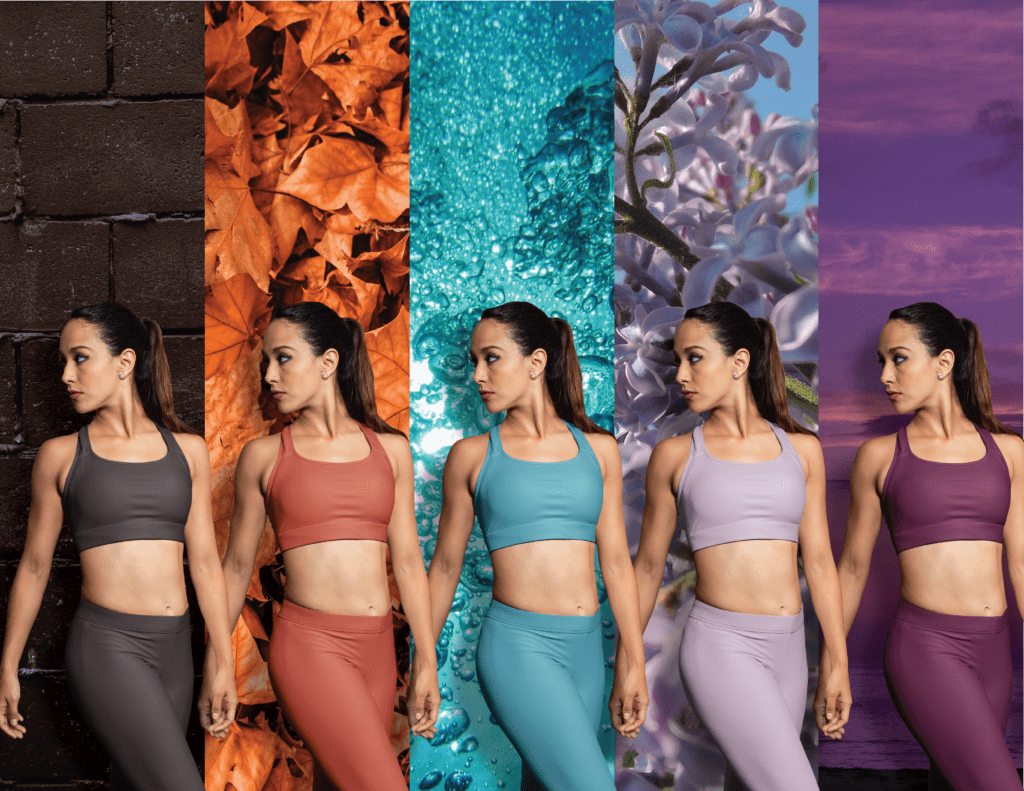 The shades of Urban Garden appear to have been touched by time and wear through a metropolitan lens. The warm hues in this palette are slightly faded and washed down and paired with softened mid-tones of aqua and lavender. This palette is shown on our certified recycled Fox Rec Recycled Polyester fabric which features properties including high chlorine resistance and UV protection. Choose from over 50 colors or pick a print for the Printable Fox Rec – all made to order! Check out all the available colors and more details for Fox Rec in our Polyester Digital Collection Book.
---
Sweet Glacé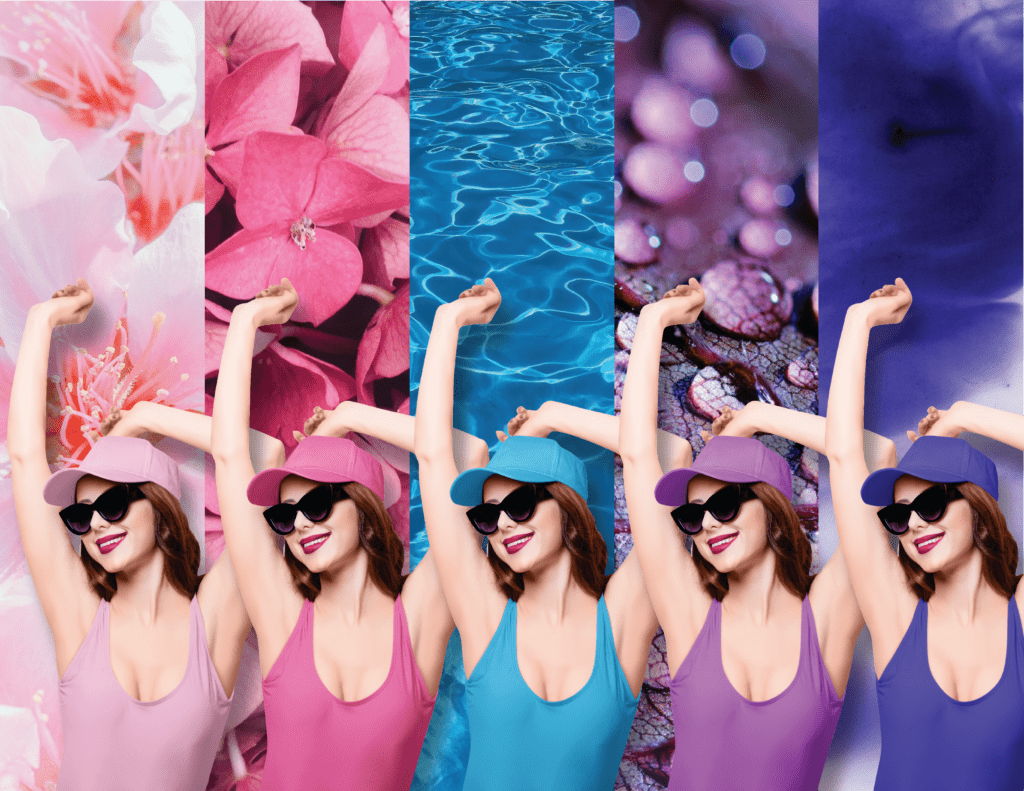 Colors within the Sweet Glacé trend capture a sugary mix of bright and pastel. These tasty hues combine to create a playful and feminine palette that features soft and hot pinks. This bubbly palette is shown on our Kira Collection. With over 45 colors stocked in Portland, Kira is our best-selling fabric and perfect for swimwear collections due to its high chlorine resistance, UV protection, and excellent stretch properties. Check out our Matte Nylon Digital Collection Book showing over 100 colors available and learn more details on this fabric.
---
Natural Glimmer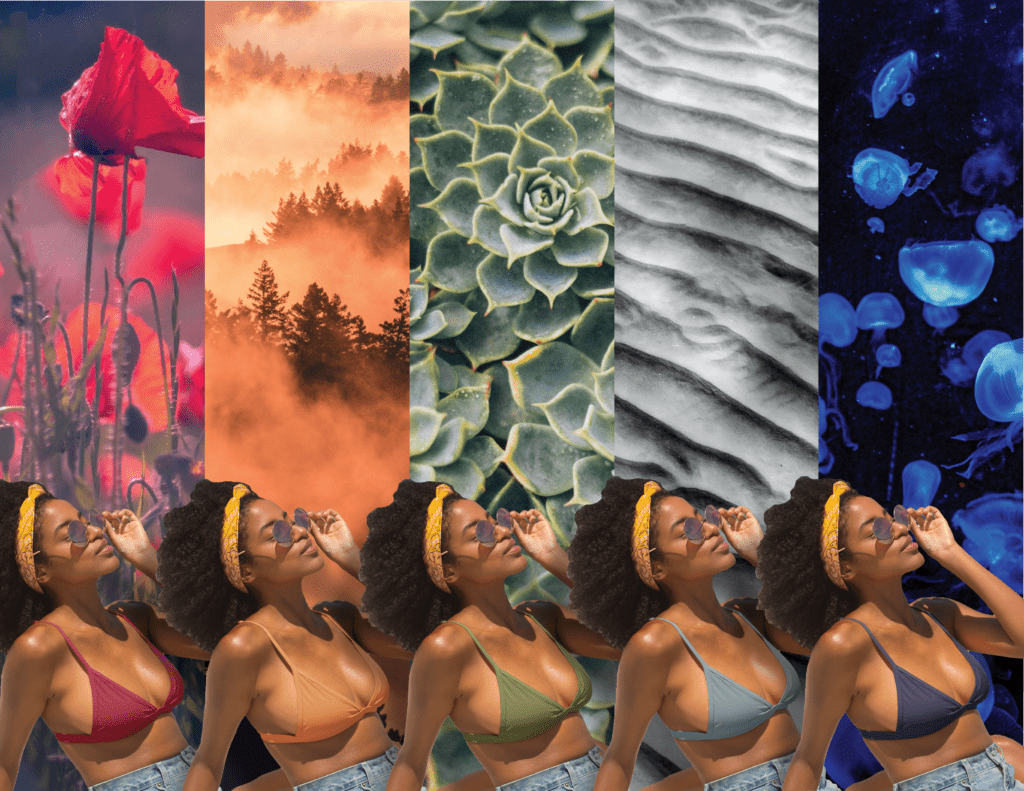 Natural Glimmer is a calm palette of essential shades and is illuminated with a lucid apricot accent. This trend features a luminous glow that layers with nature-inspired updated neutrals like sage, bluish grey, and deep navy. The Natural Glimmer palette is shown in our Palm Rec 18 Recycled Nylon Collection! Explore our selection of in-stock colors or choose from over 100 colors available by the single roll.
---
Sunk

issed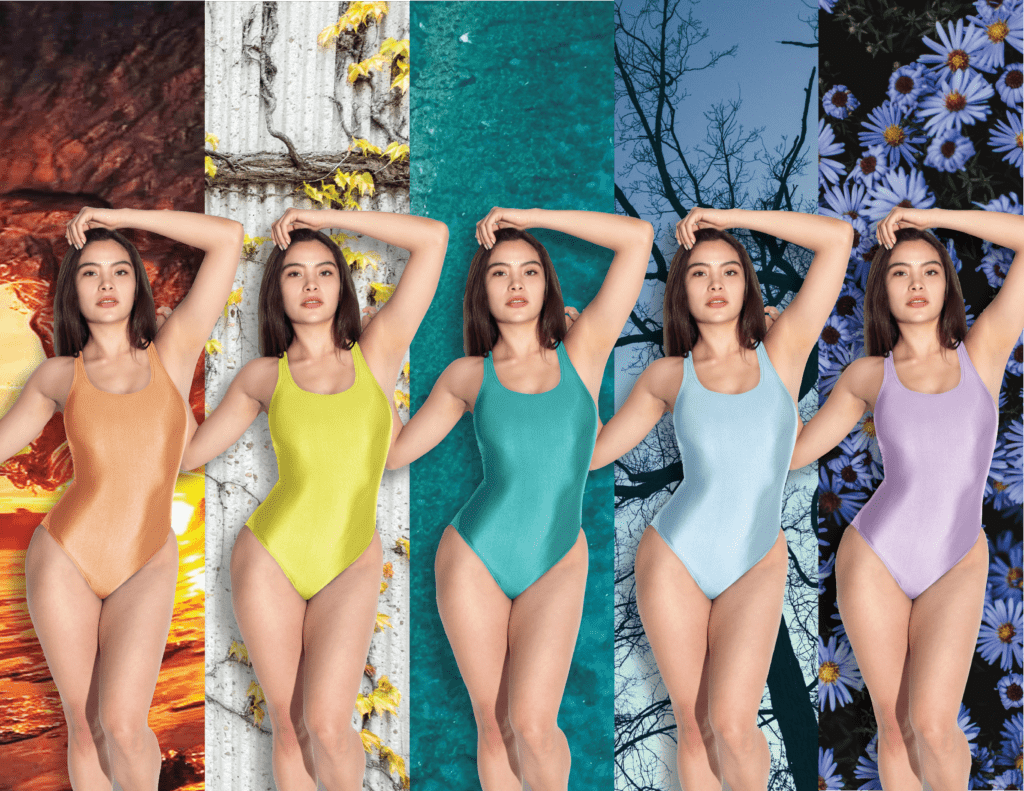 In the Sunkissed palette, we see flexibility in the color combinations rather than controlling them, leading to a rainbow of new possibilities. These shades are wild and non-homogeneous. This vivid collection is shown on our Shira Shiny Tricot, perfect for your next swimwear collection and available in over 45 custom colors by the single roll. Check out our Shiny Nylon Digital Collection Book for more information!
---
Pine Crest Fabrics is thrilled to share our 2023 Swim & Active Color Trends! Tap the link below to sign up and download the full 2023 Color Trends report, complete with full Pantone Color Palettes and an abundance of inspiration for the coming year. The fabrics shown are a mixture of in-stock and made-to-order, so please contact your fabric specialists for more information. 

DOWNLOAD THE FULL FREE 2023 COLOR TRENDS REPORT
———> HERE <——–