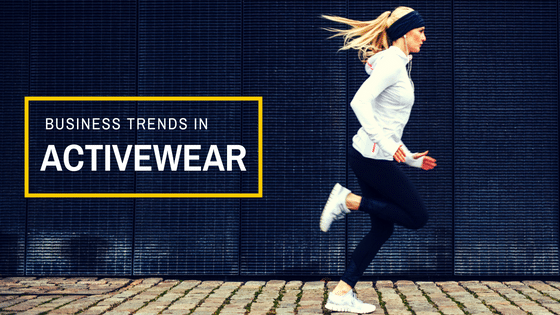 Business Trends in Activewear
Tthe Global Activewear Market expected to continue its strong growth to over $546 billion (yes, billion!) by 2024! So, we wanted to look is going to be on trend in the fashion industry. Customers are now looking to be well informed in the latest in global apparel trends and the processes used by businesses. Now is the time for the textile industry to work with the well-informed consumer!
Fast Fashion
We can all agree that fashion changes from one day to the next. So, it is no surprise that activewear companies need to embrace fast collections. The traditional process is to design was in a 3- to 6-month time spans to introduce seasonal collections. Now, as soon as the word is out for the hottest trends, customers want it. Monthly collections have a much shorter time frame of two months to meet customer needs. Consumers want it and they want it now! Across the board, this means industry players need to reduce lead times to meet customer needs.
The Rise of Fitness
The trend of fitness is taking on new heights, fueling activewear demand. Globally, we can see a rise in sports participation due to a growing awareness of being fit and healthy. Additionally, the huge adoption of athleisure wear as casual clothing. With this comfortable alternative, Spandex fabric can get you from the office to any fitness activity in seconds!
Sustainable Practices
Another very prominent trend is consumer demand for eco-friendly apparel and business practices. For instance, companies like Repreve. They have developed performance fibers made from recycled plastic bottles as an environmentally friendly alternative. Additionally, textile mills are also beginning to use sustainable practices. For example, mills are recycling waste water or using natural gas in the setting and dying processes to be more eco-friendly. Sustainability practices throughout the value chain provide an excellent brand building opportunity for any business or supplier.
Personalization and Customization
The next trend is being transparent to show customers that you can be open to their input. Custom product personalization has hit the mainstream market by storm. Getting custom prints, designs, colors, or shapes helps provide a one-of-a-kind experience for businesses and customers. Custom fashion requires brands to recreate their product development process to invite customer collaboration. This trend helps to build strong relationships not only with businesses and their suppliers but also businesses and their consumers.
Embracing Technology
Finally, businesses need to have a collaborative environment to continue to innovate products. By having open communication, it will help businesses stay at the forefront in customer's minds. Another area is to work with suppliers (like us!) to find the latest in activewear technology to get the innovative edge over competitors. In our case, Pine Crest continues to find the hottest trends and give businesses the fabric that gives them the best for their customers.
In conclusion, this blog post showcases a few trends that can be embraced as customers become more informed about fashion trends. With this in mind, customer co-creation and technological savviness give businesses have some innovative ways to give customers exactly what they want.
To read more about the fabric trends going on in the textile industry click here and here