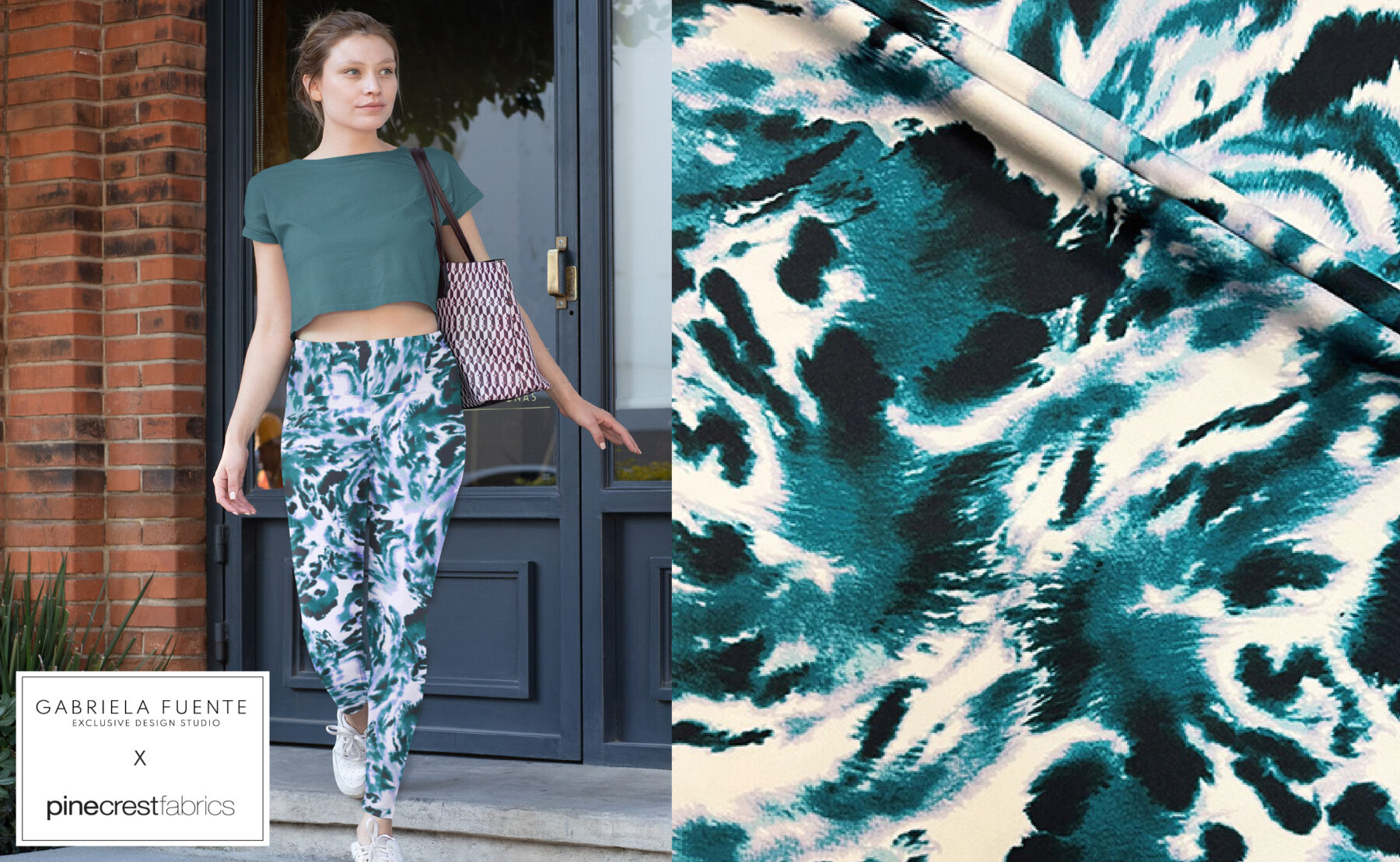 Gabriela Fuente x PCF Collaboration | 4 New Exclusive Prints
Pine Crest Fabrics has long been a source of wholesale stretch fabrics. We run a flexible and versatile Pick-a-Print program that features a large selection of prints, base cloth options, and custom printing capabilities and support. Now, for the very first time in its history, PCF has partnered with an expert in textile design, Gabriela Fuente, to launch four exclusive new prints! Introducing, The Gabriela Fuente x PCF collection.
Who is Gabriela Fuente?
Trendy and timeless. Just two elements of Gabriela Fuente's art style. As an expert textile designer who specializes in watercolor, pencil, and graphic design techniques, Fuente delivers beautiful textile prints for a range of end-uses. With over 10 years of industry experience, she founded her own studio – Gabriela Fuente Exclusive Design Studio – which specializes in creating designs used in fashion apparel, stationery, and home design. Fuente's work has appeared in collections from some of the biggest brands in fashion apparel and she continues to build her body of work with fresh designs every month. (An exclusive interview with Gabriela Fuente is coming soon! Subscribe to our emails to get notified when it launches.)
Gabriela Fuente x PCF Prints
These fashion-forward prints are currently stocked in our PDX headquarters on two of our favorite activewear fabrics, but these designs can be printed on any base cloth, anywhere, anytime. The Gabriela Fuente x PCF collaboration was released in four colorways of the Edith and Kimmy prints, 3 colorways of the Weekend print, and 2 colorways of the Viggo print.
Edith on Endurance Repreve® Recycled Polyester (View Here)
DTP2854C4 | Blue Lolite Edith on Endurance
DTP2854C1 | Deep Teal Edith on Endurance
DTP2854C2 | Biking Red Edith on Endurance
DTP2854C3 | Violet Indigo Edith on Endurance
DTP2855C2 | Winter Kimmy on Merit
DTP2855C4 | Summer Kimmy on Merit
DTP2855C3 | Spring Kimmy on Merit
DTP2855C1 | Autumn Kimmy on Merit
Weekend on Endurance Repreve® Recycled Polyester (View Here)
DTP2857C6 | Midnight Weekend on Endurance
DTP2857C5 | Twilight Weekend on Endurance
DTP2857C2 | Sunrise Weekend on Endurance
Viggo on Endurance Repreve® Recycled Polyester (View Here)
DTP2856C2 | Earthen Viggo on Endurance
DTP2856C3 | Flora Viggo on Endurance
Where to Get Them…
Gabriela Fuente x PCF exclusive prints are currently in-stock in PDX and ready to ship. However, the possibilities are endless! You can print these designs on any of our base fabrics. Contact your fabric specialist for more details and keep your eyes out for an exclusive interview with the artist herself.
Contact a fabric specialist today.