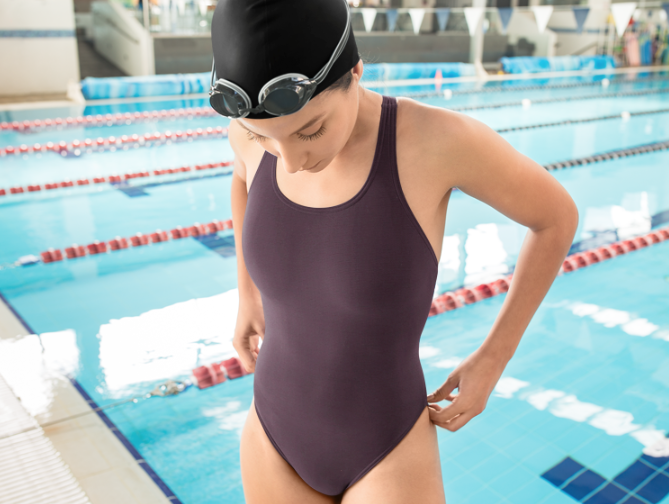 What is Tricot Fabric?
Tricot (pronounced the-ko) comes from the French verb tricoter, meaning to knit. Tricot fabric has a unique zigzag weave that is textured on one side and smooth on the other. This allows the fabric to be soft and also very sturdy for activewear.
Construction of Tricot Fabric
Tricot fabrics are produced on a flatbed knitting machine, as opposed to a circular knitting machine. They have an excellent wrinkle and run resistance, as well as good drape-ability. A tricot knit is ideal for activewear, especially when composed of Nylon Spandex or Polyester Spandex blends. These blends allow the fabric to breathe and not cling to the body while also providing support and the comfort of a 4-way stretch fabric.
Tricot Characteristics
Tricot is a warp-knit fabric. This means it has continuous lengthwise columns of loops. Warp knitting differs from weft knitting by having each needle loop its own thread. The needles produce parallel rows of loops that create the interlocked zigzag pattern seen below.
These lengthwise loops are what give this fabric a smooth surface on the face and a textured back. This structure creates ribs on the front and crosswise ribs on the back. This makes the tricot both soft and an incredibly durable knit structure.
This knitting process creates a soft and flexible tricot that does not snag or run easily. High-quality tricot will not build up a static charge or cling to the body to ensure that it is comfortable to wear. Tricots come in a variety of colors and patterns.
Overall, thanks to this construction, tricots have a sturdy and enjoyable handle. Tricot fabrics can stand up to a good level of day-to-day wear and tear during any activity. This makes it an ideal fabric for close-fitting comfort stretch apparel, such as swimwear, sportswear, lingerie, and even some outerwear types.
Please take a look at our Kira Matte Tricot fabrics, perfect for any activewear, swimwear, or sportswear garment with its UV protection, high chlorine resistance, and four-way stretch!
We love our earthly palette, but the options are endless with 45 in-stock colors!