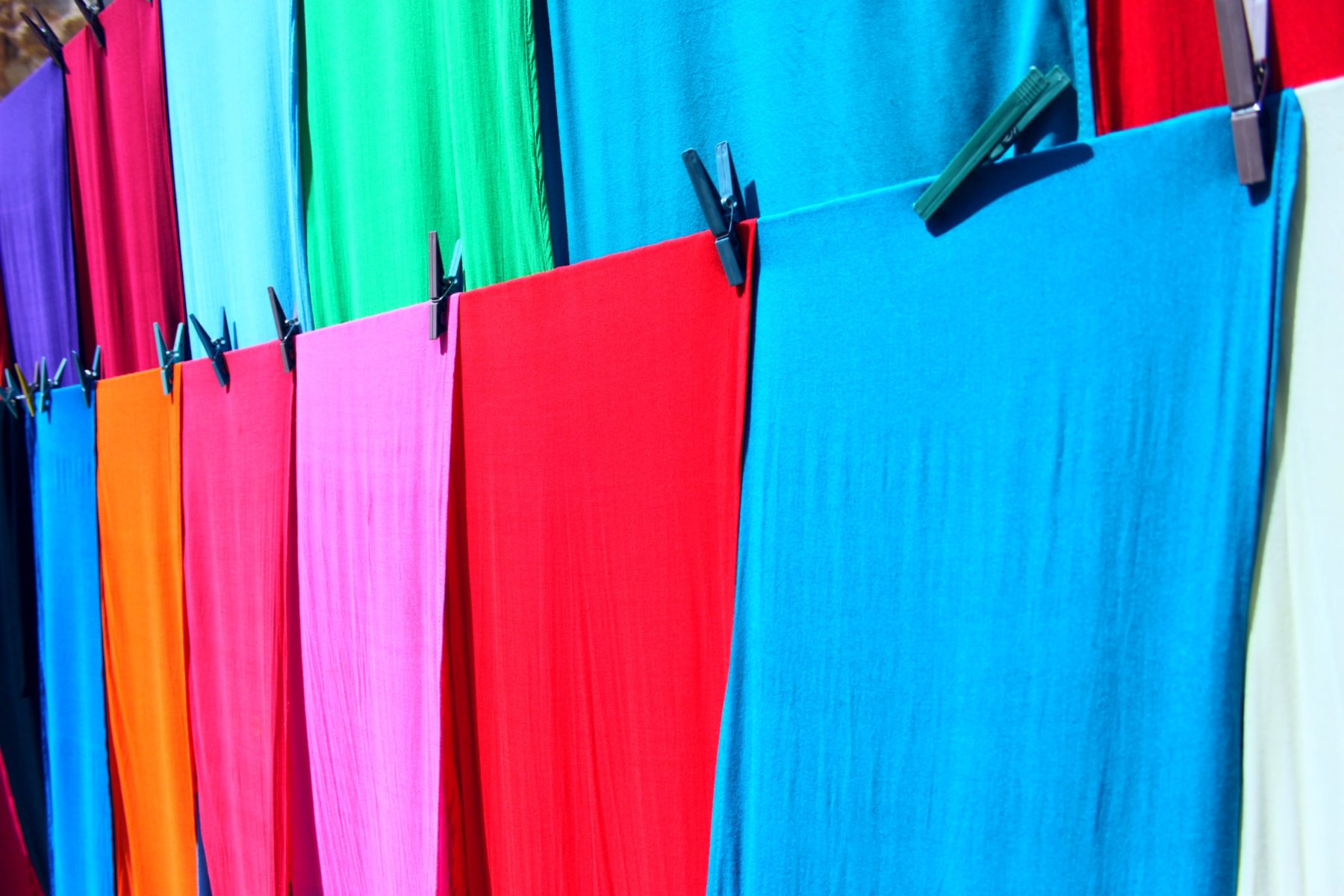 Stretch Fabric Care Tips
Long Term Care Tips for Nylon, Polyester, and Spandex 
As a stretch fabric industry leader, Pine Crest Fabrics wants to provide proper care instructions based on our in-depth knowledge, research, and close discussions with our fabric mills. The three most popular fibers PCF offers are Nylon, Polyester, and Spandex fibers. Each fiber and fabric blend has unique components that strengthen each garment. We continue to run stretch tests and thorough quality control checks with our dedication to providing long-lasting, high-quality products to our customers. 
Below are a few Stretch Fabric Care Tips for cleaning and drying Nylon, Polyester, and Spandex. 
---
Nylon Care Tips
Nylon is excellent for athletic swimwear and form-fitting bottoms such as tights. Our high-performance and versatile Nylon fabrics have a soft hand, which adds comfort to the body while also achieves bright vivid colors. Properly caring for Nylon fabric will help the fabric last longer and hold its maximum comfort qualities. 
PCF Nylon Fabric Qualities 
Perfect for Printing bright vivid colors

50+ Ultraviolet Protection Factor (UPF)

Creora High Chlorine Resistance Yarn

OEKO-TEX Standard 100 – tested for harmful substances

Washing and Drying Nylon
Wash separately on the cold setting for best results – try not to wash with other fabrics and use a small detergent amount to avoid build-up of static.

Never use chlorine bleach – regular detergent works perfectly fine!

Drip or air drying most is ideal – knits should be laid flat on a surface.

If the care-tag indicates that the Nylon item can be machine dried – use the lowest setting and check often. Note that machine drying takes a much shorter time. To avoid causing damage, it is important to regularly check on fabric to ensure that it is not in the dryer too long.

Never use high heat or expose the fabric to high heat (like irons) – it can cause shrinkage, reduce stretch recovery or discolor fabric.

For stains, use a thick paste of detergent and water, apply the mixture to the stain with a soft brush. Then soak the garment in detergent water for 10 -15 min, then wash normally and hang or lay flat to dry.
---
Polyester Care Tips
Polyester can be used for a wide variety of garments with its intense fiber strength. Not only is it stronger than most fibers, more resistant to chlorine when compared to Nylon and Natural fibers. Activewear and sportswear are the two most popular categories that PCF provides. The name is shortened from a synthetic, human-made polymer, most commonly referred to as polyethylene terephthalate (PET). No matter what name is used, keep the Polyester fabric looking brand new with these tips.
PCF Polyester Fabric Qualities
Resistance to shrinking, stretching-out, wrinkling, and abrasions

Higher melting point, so it is more suitable for Heat Transfer/Sublimation printing

50+ Ultraviolet Protection Factor (UPF)

Retains shape and easily dyed





Washing and Drying Polyester
Machine or hand wash at home or utilize an eco-friendly dry cleaner.

Turn garments inside out before washing, this will cause fewer snags and pills.

For stains, use warm water and spot treat or wash immediately; discoloration can occur too much time passes before cleaning the stain.

Oil-based stains should be attended to by a dry cleaner. When removing oil-based stains at home, use a heavy-duty detergent and warm water. 

Polyester garments should hang or lay flat to dry, especially if blended with spandex. If tumbling dry, 100% polyester can be dried using high heat, but PCF advises using low or medium heat to reduce energy use and extend the life of the garment. 

The use of a fabric softener will reduce fabric stiffness and static build-up. 
---
Spandex Care Tips
Spandex fibers are added to textiles to improve garment comfort and fit by adding excellent stretch recovery to swimwear, activewear, and undergarments. Many of Pine Crest's spandex fabrics are a blend of nylon or polyester. For this reason, it is critical to consider that the higher the spandex fiber count, the more delicate the washing and drying process should be. For the best results, give spandex fabrics some extra love with these care tips!
PCF Spandex Fabric Qualities
Perfect Fit & High Comfortability.

Resistant to wear and tear caused by sweat, detergents, body oils, lotions, etc.

Stretches up to 500% of its length.

Retains long-term shape.





Washing and Drying Spandex
Handwashing most ideal – use a mild detergent and never use chlorine bleach because it damages the fibers

Do not wring fabric – either squeeze or press the water out of the fabric. If washing in the machine – put in a mesh bag – delicate cycle 

Stains 

– soak in cold water with mild detergent, rub out stain (do not scrub)

Odors –

Take a bucket of lukewarm water and a cup of bicarbonate of soda. Presoak in cool water mixed with ¼ cup scented water, then wash on a delicate cycle hang dry.

Drying –

 roll garment in a towel and pat dry, then hang dry away from light and sun. Never iron or dry or on tumble dry will remove fabric elasticity.
When referring to stretch fabric care tips, always take precautions. Never be too cautious when dealing with delicate fabrics. Please be aware when ironing – all low temp/lowest temp with light pressure. When purchasing a garment with any nylon, spandex, or polyester fiber contents, be sure to read the tags and gauge care from there. Please call your Fabric Specialist today if you have any other questions regarding specific fabric care.
Resources –
Clothing Care: Making Your Clothes Last Longer