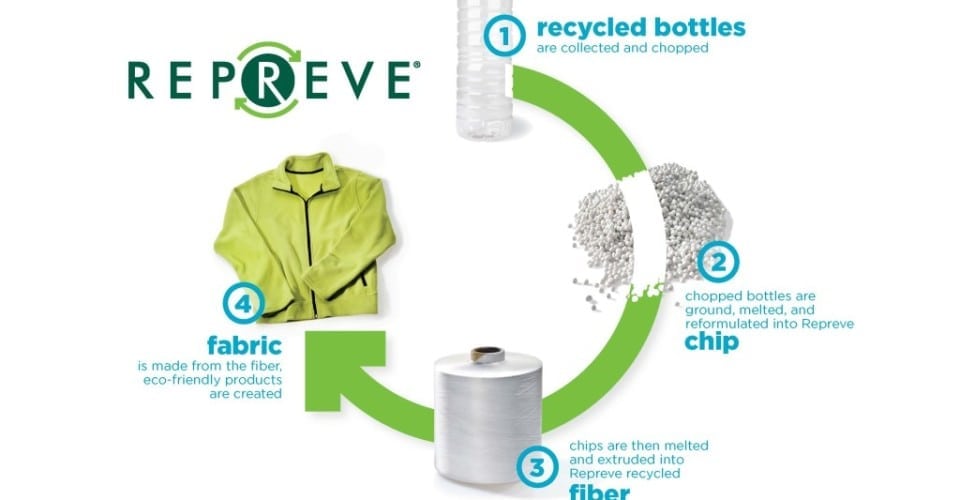 Eco-Friendly Fabric Options!
Working in the Pacific Northwest, we are constantly investigating eco-friendly options to reduce waste to help our world in any way we can. We are lucky enough to utilize Repreve® to have base cloths made with recycled materials. With billions of plastic bottles going into landfills every year, Repreve® has created a way to now do something about it.
About Repreve®
In the textile industry, Repreve® is the leader in performance fibers made from recycled materials. As seen in the video, they transform recycled bottles into an amazing fiber. These fibers can then be used by name brands to make activewear and fashion apparel. Pine Crest Fabrics is lucky enough to be a part of this process with these Repreve® certified fabrics!

Their already amazing recycled process gets even better. Repreve® can create properties like wicking, water repellency, adaptive warming and cooling, and more when they create the fiber. Currently, Unifi, which makes Repreve®, has recycled over 10 billion plastic bottles! Amazing! Repreve® even has the capability to test your garments that you make and give you the bottle count in your apparel! You can find down to the bottle, how much you've helped in recycling waste that would have sat in a landfill!

As you can see, when learning about Repreve® and their incredible mission, we were incredibly excited to see their capabilities in making high-quality Recycled materials to be used for the activewear market.
Repreve® and Pine Crest Fabrics
We are lucky enough to have Repreve® certified fabrics! Our Repreve® Eco-Friendly fabrics are ideal base cloths that can be printed on to give you not only your perfect print but helps the environment at the same time! Our fabrics, Phoenix and Evolve, are great options for any activewear market. Swim, dance, gymnastics, and more!

Don't let the word "recycled" fool you, recycled polyester is just as strong as virgin polyester! With Repreve® is one of the most certified, earth-friendly fibers available in the world, they ensure quality and reliability.  Our fabrics contain recycled Polyester yarns made from 100% recycled materials, including post-consumer plastic bottles, pre-consumer industrial waste or a hybrid blend of both!