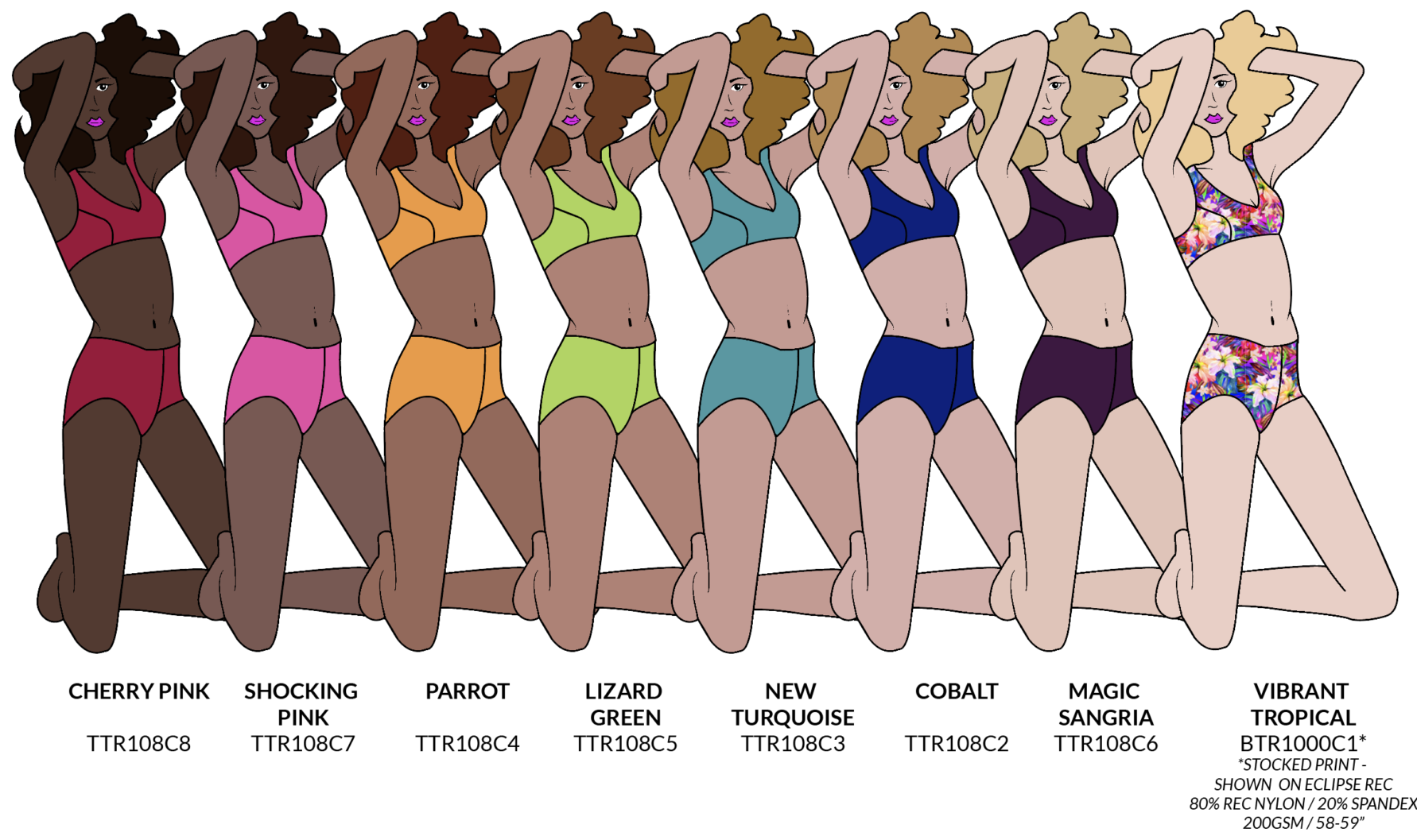 Swimwear Fabric Trends for 2021
As we move into 2021, it is an opportunity to look towards the new year with fresh ideas, designs, and trends. Embracing new eco-friendly concepts and simple changes will help the apparel industry become a more transparent market where consumers will begin to trust brands. Fashion Snoops, a trend forecasting company, explains that consumers will want a design perspective of "Goodness." Goodness is defined as "a communal craving for honest simplicity and wholesome satisfaction. We want to hold onto optimism and tap into sparks of quirk." These desires are tied to wanting to feel happy after navigating through the choppy waters of 2020. Bright colors, nostalgic patterns, and textured swim fabrics will be the main drivers for Swimwear Fabric Trends for 2021. 
Pine Crest Fabrics is thrilled to expand our stock line in January 2021 with new recycled nylon swimwear fabrics. With eight new bold and vibrant colors, our Palm Rec 18 will be a show stopper for any upcoming swim collection. This style is a high coverage stretch fabric that is ideal for next-generation swimwear and beach fashion. This swim fabric has a soft hand feeling and is made from 100% recycled nylon. Not only are we launching new recycled solid fabrics, but our first in-stock recycled prints as well! Our unique prints are printed on a soft tricot fabric, Eclipse, made from recycled nylon that prints beautifully – making it an ideal weight for swimwear and other activewear apparel. 
PCF's design team continues to research and develop new trends for 2021 and 2022, giving brands insight into which design perspectives consumers will be looking for in the coming years. As recycled fabrics continue to grow in the activewear industry, Pine Crest is proud to provide new styles for the market shift. In addition to Palm Rec 18 and Eclipse, Kira Recycled Matte Tricot and Cloud Rec 13 are two high-quality recycled nylon fabrics made from pre-consumer waste. These styles are eco-friendly and are available in a wide array of colors. They have also been very popular for custom printing and custom color productions. 
We are excited to share a glimpse at some of the trending themes for 2021: Tropical Heat, Go With The Flow, Pastel Perfection, Summer Carnival, Earthly, and Deep End. 
---
Tropical Heat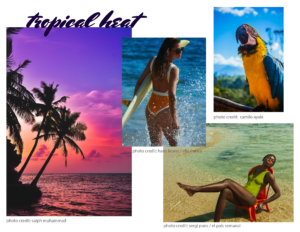 Whether you're on vacation or not, the Tropical Heat color palette will at least make you feel like you're on vacation! As we seek positive energy in 2021, this collection of vibrant colors also builds on sustainability. A super soft and stretchy recycled material will make your 2021/2022 swimwear collection the summer go-to. Swimwear collections will shine with happy saturated hues that will put a smile on your face no matter where you are!
---
Go With The Flow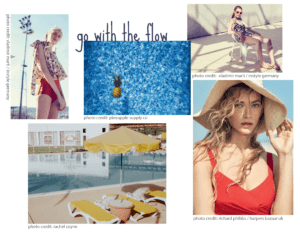 Go With The Flow is defined by a bold and vibrant color palette mixed with flowing retro combos. This delightful mix of retro design, happy florals, and classic stripes creates an air of playful happiness. Inspiration is taken from creating something new by using the familiar. Tried and true patterns are printed on a mix of matte and shiny bases, colorful, nostalgic blends with the contemporary. This trend is an ideal place to use deadstock fabrics to create unique combinations of color and prints. These daring looks speak to our desire to build a new digital language of self-expression. All of these styles below are discounted deadstock items, so stay on trend for a good price! 
---
Pastel Perfection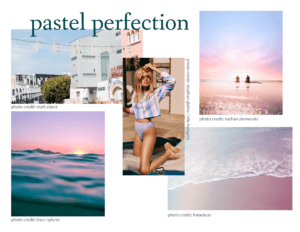 Soft dreamy shades transmit a calm feeling that drives the Pastel Perfection theme. According to the Met Museum, "[p]astels have been used in art for ages, such as in 18th-century pastel portraits." These less saturated colors convey nostalgic energy that continues to trend across the fashion industry in 2021.
---
Deep End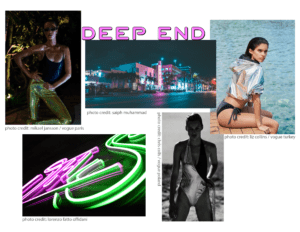 Giving off a delicate but other-worldly feeling, the Deep End's high-energy color palette is perfect for swimwear and activewear markets. Ethereal combinations of luminous and fluorescent colors create an experimental look that will push designers and consumers to express their artistic creativity. The fabrics that inspire this theme have a lustrous sheen with a shimmering pearlescent aesthetic for a new modernity focus in swimwear. 
---
Earthly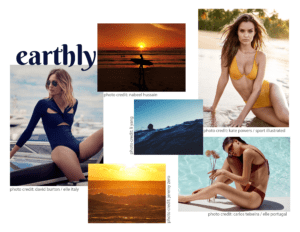 Let your adventurous side run free with the natural tones in the Earthly trend. A serene color palette with natural shades is another trending theme for 2021. These colors bring us comforting energy and push for inner balance. This palette is relaxing and soothing, perfect for swim styles that take inspiration from nature.
---
Summer Carnival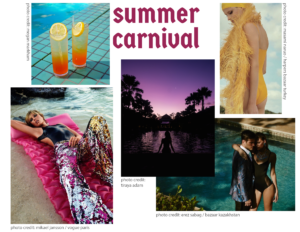 Summer Carnival is a theme that brings nostalgic darks mix with soft passionate shades to the swim market. Blending a combination of textured novelty knits taps into the drama of carnival. Artful abstracts and embellished surfaces give a fresh take to swimwear. This trend brings optimism translated to texture and design to bring any collection to life!
---
Pine Crest Fabrics takes a more in-depth look into what consumers will want going into 2021. Joy and sparks of nostalgia are the directions of the swimwear fabric market. Consumers wish to purchase garments that last and bring a healthy sense of sustainability. Palm Rec 18 and Eclipse utilize recycled nylon fibers that are equal parts comfortable and trendy, merging fashion and function in an eco-friendly way. The styles featured in this collection are multi-functional, offering UV protection, sustainable and recycled components. 
Are you working on creating your next swimwear line? 
Check out our in-stock Kira collection; nwith over 40 colors stocked in Portland, you can build a color palette for any trend. The Kira matte tricot fabric can also be made using recycled nylon and ideal base fabric for custom fabric printing. To learn more about Palm Rec 18, Eclipse, or our exclusive January 2021 product launch, please contact your Fabric Specialist today!
DOWNLOAD THE FREE SWIMWEAR FABRIC TRENDS 2021 REPORT
———> HERE <——–